If you are into live streaming — whether as a live streamer or a viewer — you would have heard of Bigo Live. After all, Bigo Live is well-known in Singapore.
It is one of the more popular live streaming platforms where you can go to watch anything that catches your eye. With 400 million users on the Bigo Live app, there is something for everyone on this platform.
But if you are new at the whole live streaming thing and you don't know much about Bigo Live, we're here to give you the deets on Bigo Live.
Let's start with a little introduction.
What is Bigo Live?
Credit: Android Guides
Bigo Live was launched in early 2016 by a Singapore-based company named BIGO Technology. They started out as a startup but it has now turned into a million-dollar business. No surprise there!
Simply put, Bigo Live is a free app that lets users live stream, share exciting moments, exchange virtual presents, and demonstrate their talents across borders and oceans.
Bigo Live boasts 400 million users in over 150 countries, making it one of the industry's most popular live streaming platforms. And you can download the Bigo Live app on both Android and iOS. 
It is especially popular in South East Asian countries such as Singapore, Malaysia and India. As of March 2020, Bigo Live was among the top five grossing social apps (on Google Play and Apple) in the United States, Thailand, and Indonesia. 🤩
One of the reasons for Bigo Live's success is how artificial intelligence and machine learning algorithms are integrated into the app. 
During live broadcasting, AI features are employed to improve user engagement and experience. So advanced!
Now that we know what Bigo Live is, you might wonder how it works.
How does Bigo Live work?
Credit: Business Today
Bigo Live is pretty straightforward to use but it does contain several interesting features. To start off, you can browse through any of the streamers who are live and watch their live streaming.
Live streamers are usually categorised according to the content and interests that they broadcast. You can find categories such as gaming, cooking, makeup tutorials and many more.
Before we dig even deeper, here are some terms that you need to familiarise with:
Diamonds are basically the currency in Bigo Live. Users can purchase diamonds which are mainly used to purchase gifts to be sent to their favorite live streamers.
This is the best way for viewers to show their appreciation for the live streamers. This is also how live streamers are able to make money from their live streaming.
Beans are used by live streamers to exchange back into diamonds or they can cash them out. 
Beans are converted from diamonds. For example, if a live streamer received 100 diamonds, it is converted to beans which means the live streamer has 100 beans.
As you can see in the image above, it takes more than 6,700 beans before you can cash them out. FYI, 210 beans is equivalent to $1 USD, so 6,700 beans can be exchanged for $31 USD.
Gifts are the best way to show live streamers that you love what they are doing. It is also a great way to get them to notice you (if your gift is big enough, know what I mean 😏).
Gifts can range from as low as 1 diamond to a few thousand diamonds. 
Now that we got the lexicon down, here are some of the special features that Bigo Live has:
Live streamers are encouraged to inspire the community by sharing their daily moments and experiences. 
A Bigo Live stream can be related to their niche or it could be just a daily routine that they want to share with others on the app. 
Live Player Kill (PK) Battles
Live streamers can challenge and participate with their friends or followers in live Player Kill or Player Knockout (PK) battles. 
The aim is to collect the most diamonds during the Bigo Live stream (which are sent by the viewers) within a certain time frame.
Real-Time Video Calls and Group Chats
Bigo Live also has a video chat function (multi-guest live) where you can invite multiple people to start a group video chat. This can be broadcasted on Bigo Live stream or it can also be done privately.
There's also a random chat option, which connects you with someone in your area.
On top of these features, Bigo Live also provides a few tools that can help in increasing engagement between live streamers and the audience. For example: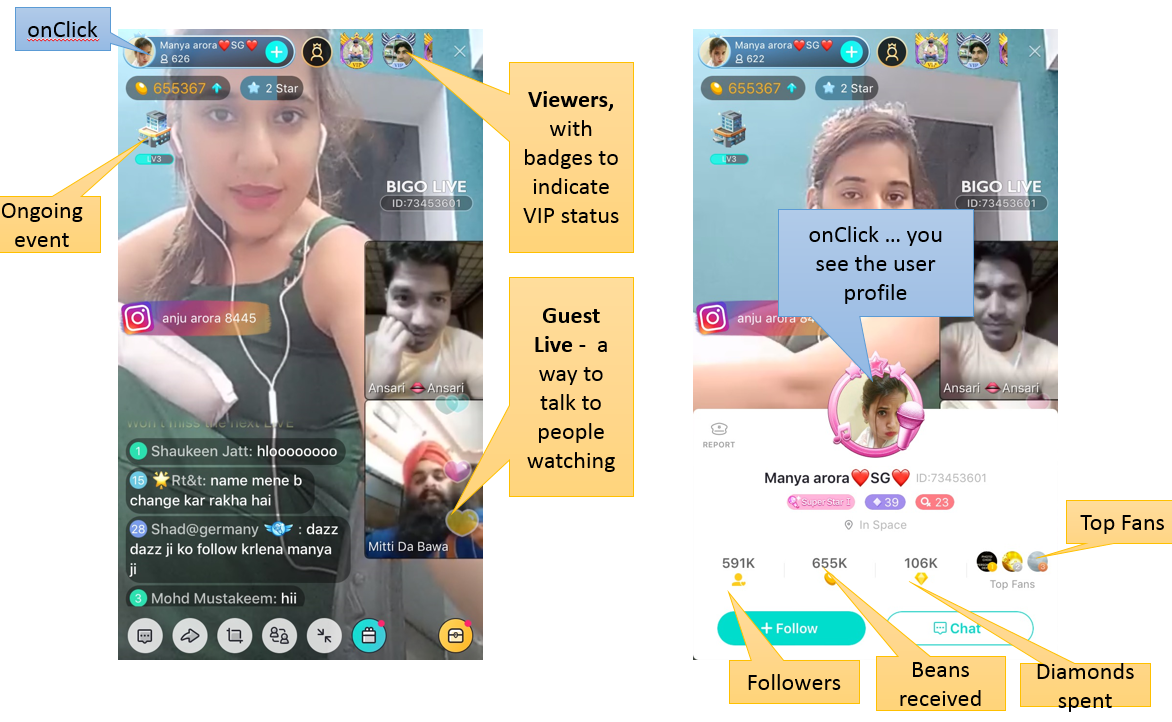 Credit: akash.gg
A live streamer's Top Fans are displayed on their profile. This is shown on a daily and all-time basis. Top Fan status is obtained via the amount of interaction you show towards the live streamer.
Once you are a Top Fan, the likelihood of you being noticed by your favourite live streamer increases. And you might even get recruited as an admin during their live streaming!
A live streamer can hold a live call with one or two of their viewers. To do so, viewers must join a queue indicating their desire to interact with the live streamer, who can then choose anyone from the queue.
Basically, it's just a waiting list. But getting the chance to talk to your favourite live streamer while everyone is watching can feel like a once-in-a-lifetime experience for those who are chosen.
During a live stream, there is a constant chat stream running through it. The audience can use this chat function to communicate with the live streamer during broadcast. 
If any of the audience sends a gift, the live streamer would be able to see it. One of the things that live streamers do to show their appreciation is to give a shout out to the viewers who send them premium gifts.
As the viewer, this would definitely make you feel good.
If you are truly a big fan, you can consider upgrading to VIP status. This can be bought as an in-app purchase. 
When you have VIP status, you get the chance to interact more with the live streamers e.g. one-to-one chats and invites to exclusive events. 
How do you get paid with Bigo Live?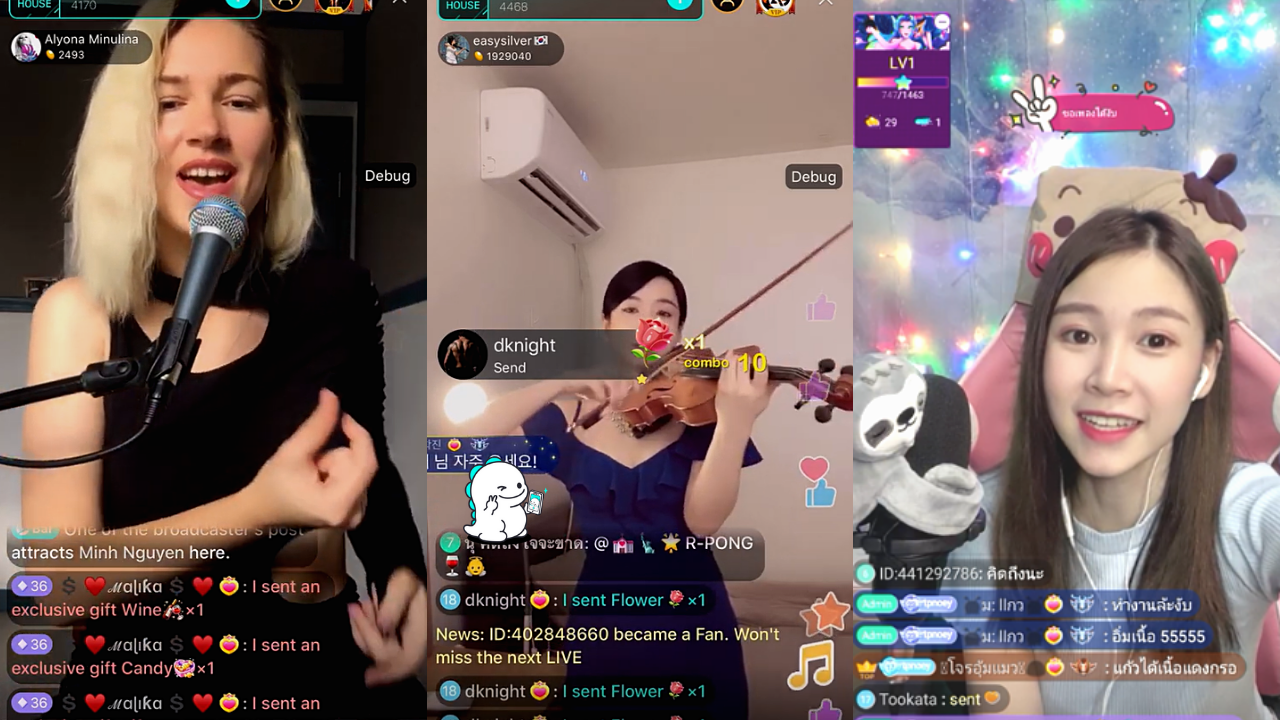 Credit: LaptrinhX
While the platform serves as a source of enjoyment for many, it also serves as a source of revenue for others. 
The most often asked question in BIGO Live is how to make money, and the solution is straightforward.
Live streamers must produce content or talent that will entice viewers. Because the more viewers or followers a live streamer has, the more money that can be made.
There are two ways to make money on Bigo Live:
Converting virtual gifts into real money
Building a fan base can take a long time. But with the right talent, skills and personality, it is definitely doable.
You could do this casually to get some side income. And when your fame grows, admirers can give virtual presents that can be converted into 'beans,' which can be cashed out into real money.
Becoming an excellent host or recruiter
Another alternative is to work as a live-streaming broadcast host (live streamer) or recruiter. 
Essentially, working as a live streamer requires excellent interpersonal skills, as well as the ability to meet a monthly performance quota in order to continue earning a salary. Salary is based on factors such as content, followers, and time spent broadcasting.
Usually, the live streamer will have a contract with either Bigo Live or a recruiter. On the other hand, a recruiter's job is to recruit live streamers and earn a commission from that.
Wow, that was quite a lot of information on Bigo Live, wasn't it?
Well, Bigo Live isn't the only live streaming app online. 
There are other upcoming live streaming platforms such as Sugarbook LIVE that you can take a look at too! 
Sugarbook LIVE is Sugarbook's latest venture into the world of live streaming. Sugarbook LIVE stands out because it's a platform that connects wealthy men and women all over the globe — so as a live streamer, this is definitely where you want to be.
If you are a viewer, you will not be disappointed by the talents and beauty that you can find on Sugarbook LIVE. Sign up now and check it out! After all, a little sugar never hurts, right? 😏