Sugarbook is Asia's most critically-acclaimed online dating site that helps members establish honest and transparent relationships with affluent members across the world. With over 4,000,000 members, head on over to Sugarbook to arrange your next sugar date and find yourself a sugar partner safely with zero hassle!
Modern dating has taken on a completely different meaning once it moved online. While some purists still believed in meeting 'organically', refusing to fall into the trap that is downloading an app for dates… it seems that this pandemic's got us all swiping!
Finding a date in Malaysia has never been more convenient now with the introduction of dating apps. After all, you get access to countless people in your area all from your phone— which means you don't even have to leave the comfort of your home!
Top 7 Dating Apps In Malaysia
1. Sugarbook 
Not to be biased (okay, maybe just a little) but we decided to go with the best first. Sugarbook changes the game when it comes to dating in Malaysia because where else can you find dates coming from a different tax bracket? Say no more to worrying about what your date does for a living, because with Sugarbook, you can guarantee that they can spoil you.
Fun fact: Sugarbook is actually a Malaysian app, with thousands of active users in Malaysia! It's time to utilize statistics and land yourself a hot date!  With options to view profiles near you to those who are recently active, Sugarbook covers all the bases when it comes to the idea of modern dating in Malaysia.
Forget about wasting time with immature boys who will ghost you after one meet up, it's about time you upped your game. After all, if you're going on a date— why not make it worth your time and score some sugar?
2. Tinder
Source: Tech Crunch
What better way to spark a flame than with some tinder?
Arguably the most popular dating app in Malaysia and the world, Tinder has connected tons of people all over the globe. The popularity is in its simplicity; swipe right if you like them, swipe left if you don't. Once a day you can even "Super Like" a person to show your keen interest in them, so that your profile will show up first for them. Pretty cool way to express yourself, huh? We'd like to call it modern-day peacocking.
That being said, Tinder does have its cons. Despite being dubbed the best dating app, most of its free functions do not give you enough to work with. You'd find yourself considering getting your hands on its paid features, which include unlimited right swipes, 5 Super Likes, and two of their hard hitters: a rewind option for wrong swipes (god knows how often many of us have made that mistake) and Passport— AKA the option to set your location to anywhere in the world and swipe on what it has to offer. If you ever wanted to get a date with a sexy Korean oppa or a bodacious Brazilan hottie, you know what to do!
Unless you're willing to pay monthly for Tinder Plus, you'll be treated to a pretty modest version of what the app has to offer. But hey, if it floats your boat… who are we to complain?
3. Paktor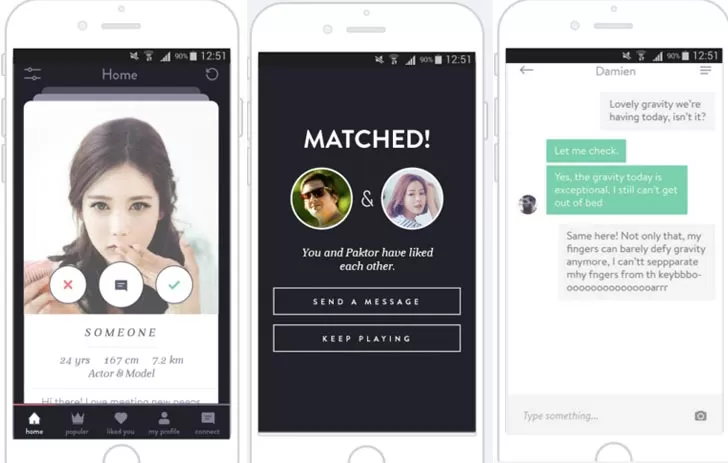 Source: The Best Singapore
Before there was Tinder, everyone was hopping onboard the Paktor Express— where the next destination was Bone Town! Sharing plenty of similarities to the former, Paktor is a dating app that is particularly popular amongst the Asian community. I mean… how much more Asian can it get considering you can filter your matches by job? (Of course, that's a premium feature… so no money, no honey!)
What sets it apart from Tinder is how you can actually see what mutual interests you and the people that show up for you have in common. Paktor also offers filtering based on people before they message you, age for those of you with a preference for the DILFs and MILFs of your area, and naturally, distance. With a pretty big pool of users, we'd recommend dipping your feet into this.
4. Coffee Meets Bagel
Source: Tech Crunch
A more sophisticated dating app in Malaysia, Coffee Meets Bagel changed the tide by presenting something new to the game. Instead of overloading a person with the amount of potential matches in your area dying for a hookup, Coffee Meets Bagel believes in genuine human connection. Perhaps it's what truly sets it apart from all the other dating apps.
Coffee Meet Bagel presents you with several matches daily to choose from, after its algorithm matches you with the profiles they have in their database. This is where they present you with a quality over quantity outlook, as you only get about 3 or so matches a day. There is also a limited amount of time you have to speak to your match before the chat expires. While this is great for users who get ghosted often or just can't be bothered to keep dry conversations in their inbox, the rate of receiving a response will generally be pretty high.
A con of this app though is that it features an in-app currency known as 'coffee beans'. As adorable as that sounds, it becomes rather eye-roll worthy when you realise that you have to spend money to reactivate chat windows that have expired. The question is now: would you rather exchange numbers with a stranger or grab your credit card?
5. OKCupid
Source: The Verge
One of the oldest dating websites to exist, OKCupid has successfully brought millions of couples together all over the world. OKCupid's app design has got to be one of the most creative ones out of the whole batch, as in addition to having your profile info— it has a quiz feature.
Be prepared to answer questions in your bio such as "What's your relationship like with your mother?" to more casual ones such as "What tv series did you just binge?". Users also get to pick out their opinions (a simple yes, no, and maybe) on more controversial topics, such as drug use and politics. All of these answers appear when your percentage shows up with your match, breaking down exactly why the algorithm thinks the pair of you go well together.
While all of this sounds like a fun time, it may seem a little roundabout for those who just want to get right into the thick of it. Can't argue the fact that while all of these cute additions will get you thinking more, you're wasting time that could potentially be spent checking out some hot mamas.
6. Happn
Source: Trusted Reviews
If the idea of using dating apps in Malaysia pisses you off as you wouldn't want to be connected to someone far away from you— we've got a solution for that. After all, no one wants to find the dream date then realise one of you's from the Klang Valley while the other is Johor…
Meet Happn. This dating app puts 'location based' in location-based dating apps as it is its primary feature! It even lets you know if your matches frequently visit the same places you do, so there's no more worries of matching with someone from a town (or state) too far away from home.
However, the drawback of this dating app is that Happn doesn't show much else besides a person's name, age, and location. Not to mention how revealing where someone frequently visits opens up the very real possibility of stalkers and other uncomfortable situations. Remember, love birds, safety first at all costs!
7. Bumble
Source: TechCrunch
Perhaps the most recent app out of them all, Bumble is the new trending dating app in Malaysia that's got everyone buzzing! The reason for its popularity? The app cleverly combines features from everything else into one.
Bumble also includes a timed feature for its chats, so once you match you better start talking as you're gonna run out of time soon! Keeping with its original idea of a bee motif, female users are the ones who need to send the first message if they want to reach out to their matches. Very much like a queen bee seeking a partner to mate, the decision is all in your hands, ladies!
If you get nervous about doing so, not to worry: Bumble offers you ice breakers to ask your matches as well! Ranging from fun questions such as "What was your wildest college party?" to pick up lines such as "I'm already here, so what's your next biggest wish?", the app gives both parties quite a chuckle as its playful tone sets the mood for more to come.
And with that, we have the best dating apps in Malaysia that you should definitely check out. While dating may be complicated, it doesn't mean you have to get through this lockdown without a quarantine bae by your… er…hypothetical side. Social distance at all costs, ladies!
If your dating plan works out and you'd want to take your relationship a little further during lockdown, you might want to check out our previous article on mutual masturbation and sex toys that could help you two have some serious bonding time together. PS: don't forget to log into your Sugarbook account when you check us out!